---
Category: GUI | Appearance | File Manager | Image editing | Personal customisation ||
Difficulty: Easy | Suitable for novice users |
Type: Photo gallery |
Format: PDF download |
File size: 18.6 MB |
---

Designation:
This How To was especially tailored to suit the needs
for new Mint user those just arrived here from the Mac -
thereby they can proceed as normal as possible with the unfamiliar
Graphical User Interface of Cinnamon.

---

Prologue:

So, now that you made the right decision to choose Linux Mint Cinnamon
as your new Operating System: Congratulations and Welcome!

Until you will feel more comfortable with it, this little How To shall help you
to deal with your new environment and feeling more home from the beginning.

After you feel more secure you still have time to explore all the things that makes
Linux Mint so great and find your own way how you want to use it and which kind
of adjustments and settings fits to you at best.


Situation:

You have just arrived on Linux Mint Cinnamon and now you have
to deal with a lot of new things, like unknown applications,
new order on the file system, organizing your stuff and other circumstances.
In addition, you feel blocked up something through the desktop environment and
can not thus operate effectively as usual, because:

When you have been a long time Mac user -
you are very used to :
Initiate actions from the dock
or from the upper main menu bar of Finder
and so you find yourself often with moving the mouse
to the middle lower area of your desktop - but there is nothing -
accordingly you miss your dock too much.
The same story with the upper main menu bar.

The next sore point is the behavior of the file manager,
you are shocked in a serious way when you have to realize
that the option for a "view in columns" is not available anymore.

Then the appearance at all.
The choice of colors is not that bad -
but also not charming enough for not to change it.
The same story with the desktop wallpaper, probably you will prefer your own.

Even the window buttons are reversed left to right -
and so is your mouse pointer too often at the wrong place for window actions.

You also would like to change the icons for folders and devices, "maclike" -
but you do not know how to do it the way for that they will appear amazing and clear.

Do not worry about all these.
This little tutorial will show you the solution for all these little annoyances.

No matter if you do like the result of the adjustments and settings made after this
little training course or not:
At least
you will have learned a bit about how to setup the appearances on Cinnamon Rafaela,
there are a lot of (new) features inside, which you may not find easily.

---

We will start here - with the default settings after installing Linux Mint Cinnamon 17.2 :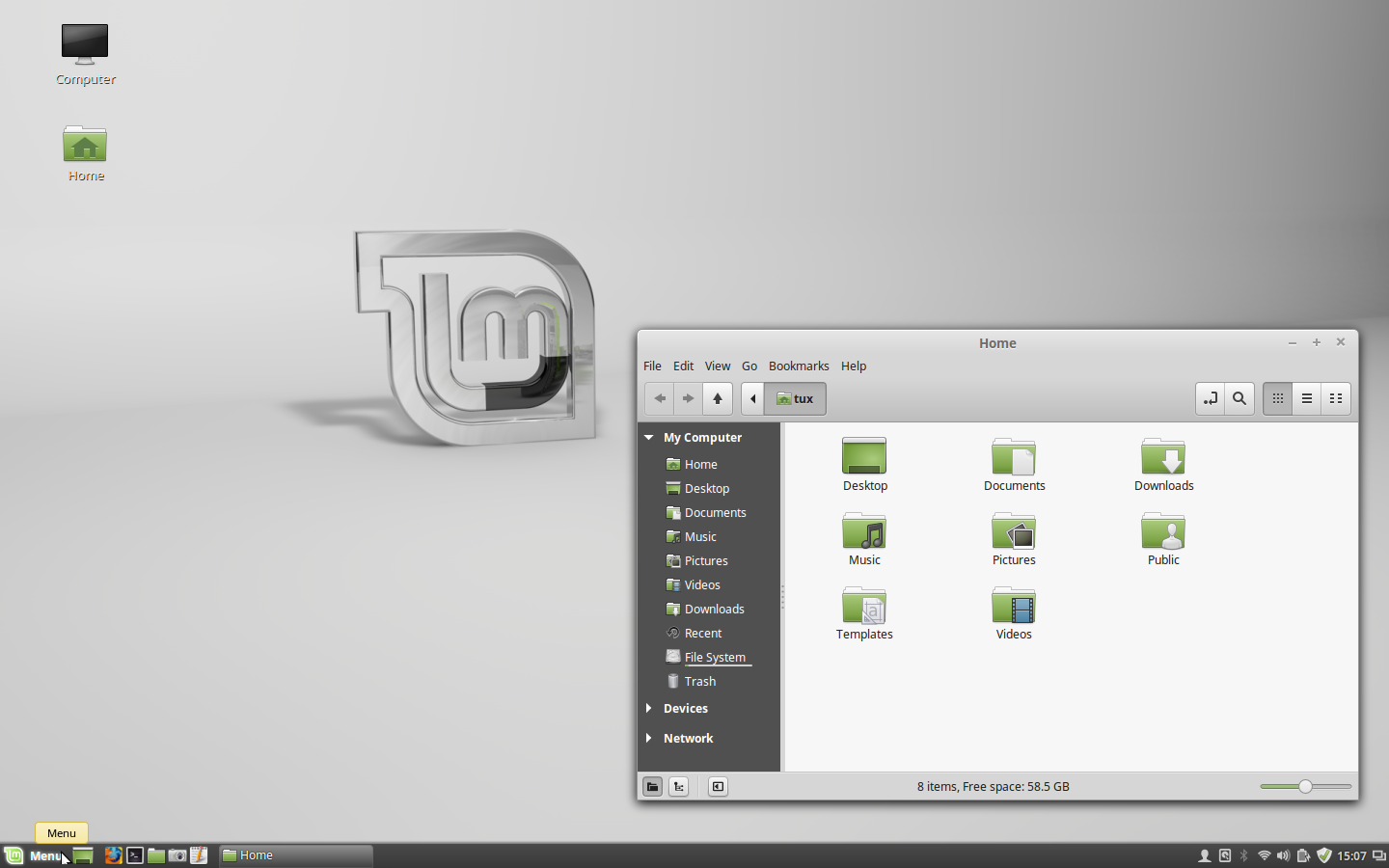 ---
Here is the goal: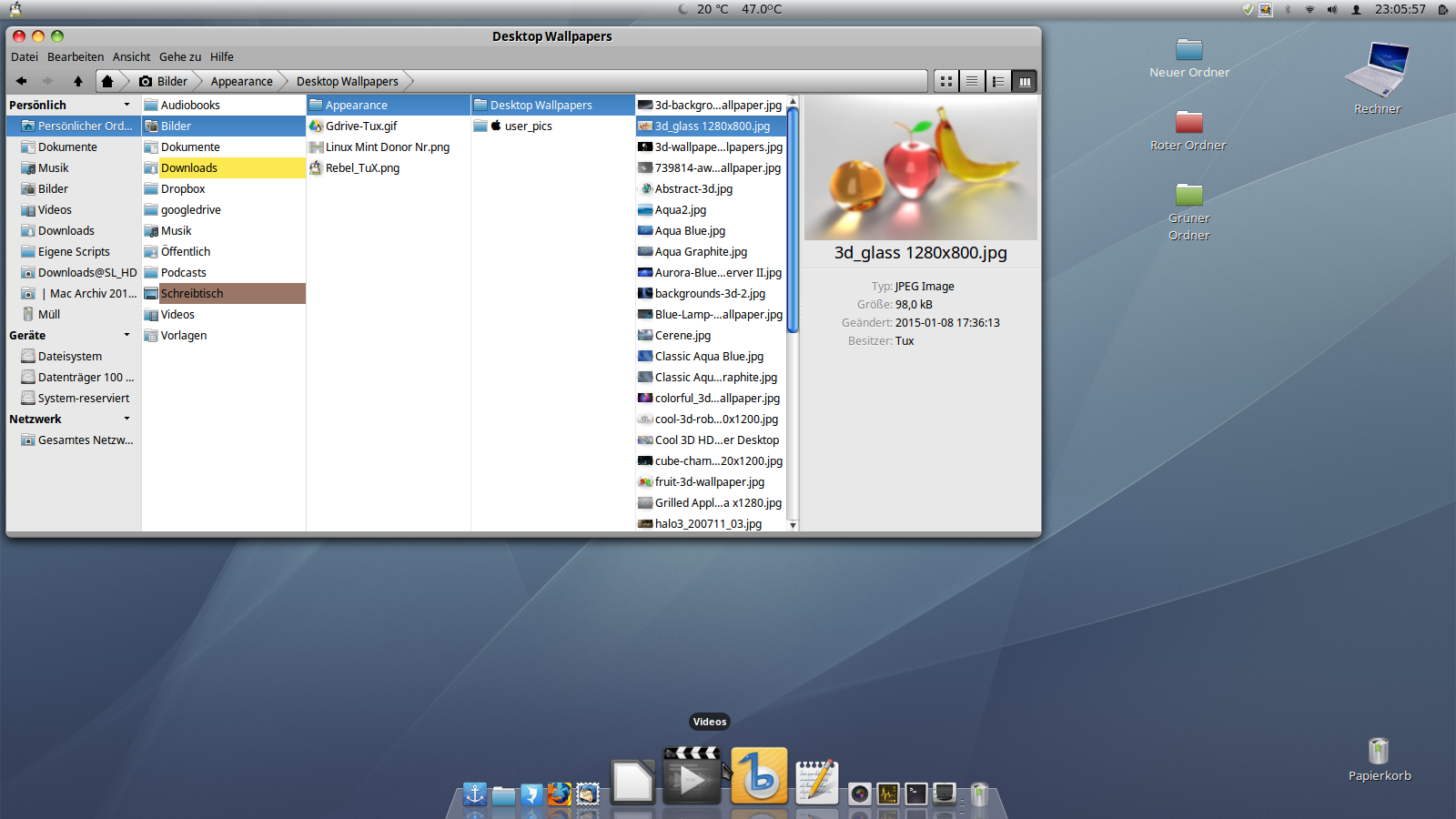 The icons themselves also need definitely really a serious treatment:
---
During the final stage we will have some sort of "Aqua/Tiger mix".
The default file manager window will behave similar to the Finder of Mac OS Classic.
For the possibility of representation as a view in columns -
we need an extra File Manager *, which behaves much like the OS X Finder.
---
Table of Contents / overview
Prologue
Configure and customize the Cinnamon System Settings
Modify and customize the panel
Customize "Files" - the default File manager
Install a dock
Download Additional Themes
Download Additional Desktop Wallpapers
Creating a file storage at a particular location (Folder: "Appearance")
Create subfolders in "Appearance"
Customizing the desktop background with the downloaded files (Wallpaper)
Customizing the appearance with the downloaded files (Themes)
Activate the newly installed themes
Installation of an Additional File Manager
Create/Use own icons and install them
Replace the icon for the computer with the created icon
Replace the icon for an application with an own icon
Epilogue
---
Since this manual is too extensive for a HTML version
it is instead available as a PDF download:
You can download it here:
(click on the PDF icon) ------>
---